Everyone has their own notion of a perfect home.
Finding a darling home with a white picket fence surrounding an emerald green lawn that's also minutes from all the allure of the city, while maintaining its own quiet charm, is a tall order in today's market. Lucky, for those looking for the halcyon home: we found it. (And for less than the price of that condo you were considering.) Our new listing in Decatur is the two bedroom bungalow with all of the classic touches you've been looking for, swaddled by plenty of opportunities that feel as in town as the home itself is a serene oasis all to itself.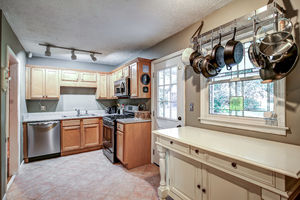 The lush front and back yards offer great space to add garden beds with the back patio being an especially relaxing space for taking in the changing seasons. The detached garage offers additional space and cover from stormy weather. Inside, the floor plan accommodates entertaining beautifully with a connected dining and living area, gleaming hardwood floors, and a kitchen equipped with stainless steel appliances.
Best of all, everything in downtown Decatur is mere minutes away. See a show at Eddie's Attic. Spend an evening on the square sampling a flight at Brick Store Pub or take the crew for a scoop at Jeni's. Even without the countless restaurants catering to every palette, with Your Dekalb Farmer's Market easily-accessible, making gourmet meals at home was never more convenient.
For more information on this listing click here to see more or reach out to us and we would be happy to take you for a tour.