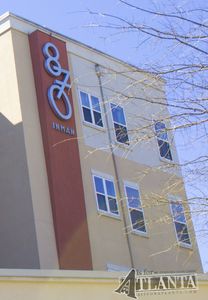 Built 2007
Heart of Inman Park Location
Adjacent to the BeltLine
Pet Friendly
Hardwood Floors
Balcony
Landscaping
Swimming Pool
State-of-the-Art Fitness Center
Private Clubroom
Secured Covered Parking
Inviting Common Areas
Mary Lin Elementary
Inman Middle School
Grady High School
Built in 2007, it features what we've come to recognize as deluxe building amenities (pool, fitness center, club room, etc.) and standard condo finishes (granite counters, stainless appliances, engineered hardwood). The property continues to appreciate so much in recent history that we wrote a blog post about it.
However, 870 Inman's major popularity goes beyond simply the Inman Park location. The area is even more celebrated for being across the street from the Atlanta BeltLine. Subsequently, the opportunity to live on the front row of a dynamic community is a dream. Possibly best of all, the commute downtown and midtown Atlanta is a breeze. The homes are a few minutes driving distance or a short trip on the nearby MARTA line.
There is another beautiful benefit to living right in Inman Park.
The neighborhood offers great access to some of Atlanta's more special attractions.
Walk to quaint Inman Park shops and places to eat like Highland Bakery. Take a stroll over to Krog Street Market. A skip over to the BeltLine has infinite potential from a stop at King of Pops to an evening run around sprawling Freedom Park. Additionally, eclectic wares and vibrant nightlife are a colorful voyage away in Little Five Points.  870 Inman is in the center of everything.
Additionally, all familiar conveniences and grocery are a five minute trip away, including Sevananda, the local co-op, and the Edgewood retail district.
INTERESTED IN ANOTHER INMAN PARK CONDO? Visit another property below.
Brickworks Inman Park
Inman Motor Works
Inman Park Village
Grinnell Lofts
Lizzie Chapel Flats
15 Waddell
Inman Mews
Inman Station
Inman Hills