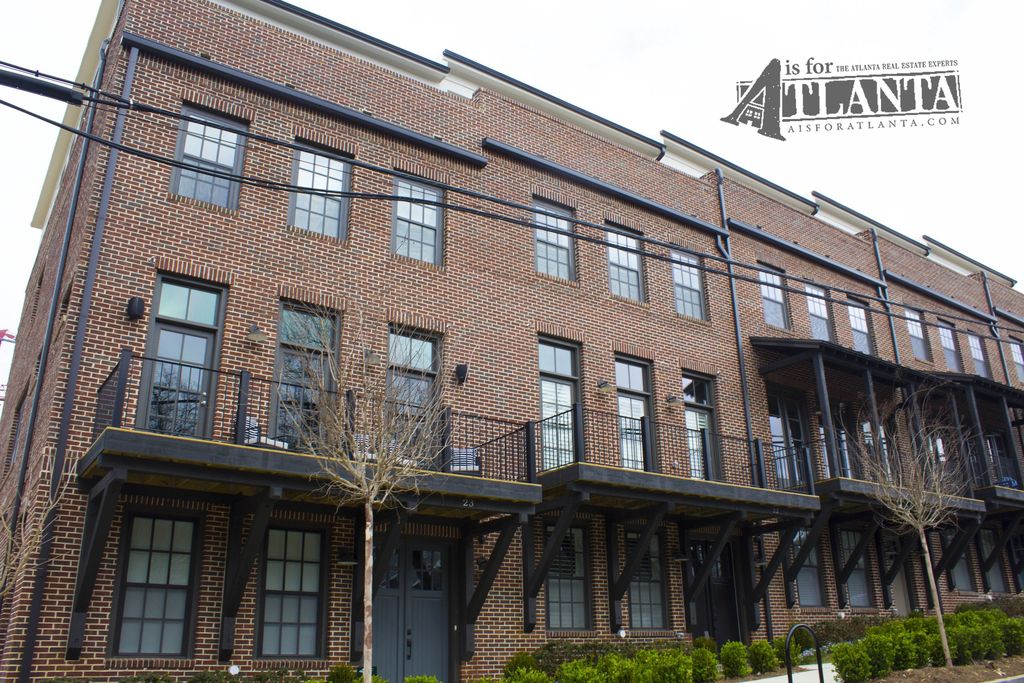 32 units
Constructed in 2016
Hope-Hill Elementary
Inman Middle School
Grady High School
LEARN ALL ABOUT THE SQUARE AT GLEN IRIS BELOW

The Square at Glen Iris
The Old Fourth Ward stretches from Piedmont Avenue and Downtown Atlanta on the west to the BeltLine and the Poncey-Highland and Inman Park neighborhoods on the east. Through it runs a main thoroughfare named simply Boulevard. West of Boulevard the Ward reaches from Ponce de Leon Avenue on the north to Freedom Parkway on the south, below which is Sweet Auburn. East of Boulevard, it reaches from Ponce de Leon Avenue on the north to the east-west MARTA rail line and Oakland Cemetery, and the Grant Park and Cabbagetown neighborhoods on the south. The neighborhood can be divided into three areas, with Freedom Parkway and Boulevard serving as dividing lines.
The area north of Freedom Parkway and east of Boulevard is one of the city's most up-and-coming areas.
It was home to The Masquerade, a prior music venue, and Historic Fourth Ward Park, a product of the BeltLine. In the very northeast corner of this area is the 2.1 million sq. ft. Ponce City Market, a mixed-use development. As part of the development of Ponce City Market, there have been several new multifamily developments including The Square at Glen Iris.
The area west of Boulevard and north of Freedom Parkway was once called Bedford Pine. Then, prior to the 1960s, the slum was called Buttermilk Bottom. In the 1960s, slum housing gave way to massive urban renewal and the construction of large projects, such as the Atlanta Civic Center, the Georgia Power headquarters, and public housing projects. Bedford Pine was officially absorbed into the Old Fourth Ward neighborhood, whose boundaries officially extend west to Piedmont Avenue.
Historically, Boulevard itself, in the 1890s described as "one of the most desirable residence streets in the city," has for decades been notorious citywide. Recently, in January 2012, City Councilman Kwanza Hall revealed a seven-point "Year of Boulevard" strategy to revitalize the corridor.
Additionally, the largest concentration of single family homes are found south of Freedom Parkway. Nearby, south of Irwin Street, the area is also perhaps the most eclectic part of the Old Fourth Ward. Auburn Avenue and Old Wheat Streets radiate the unique character of the Sweet Auburn neighborhood and the Martin Luther King, Jr. National Historic Site. Old Fourth Ward's primary nightlife district is centered on the intersection of Boulevard and Edgewood Avenue also, featuring a concentration of bars and restaurants.
Interested in another home in the Old Fourth Ward?
Studioplex Lofts
Dynamic Metal Lofts
Central City Condos
City Heights
East Avenue Cottages
Enclave at Renaissance
McGill Park
NuGrape Lofts
Renaissance Park
Tribute Lofts
Sky Hill
Water Tower Stacks
Cottages at East Avenue
Troy-Peerless Lofts
Ponce Springs
Glen Iris Lofts
Condos Near Ponce City Market
Search For Homes Near Dad's Garage
Old Fourth Ward Under $500,000